A wedding is the result of two people loving each other so much that they want to spend the rest of their lives together.
Your wedding at Bethel means that you want God to bless you as you begin that new life together as husband and wife.
Your wedding ceremony gives you an opportunity to make vows to each other with God and your guests as witnesses.  The Bible readings show that God is the giver of love, and that as you love each other, you reflect some of the qualities of God.
As you begin married life, we pray with you that you will keep God at the centre of the marriage so that it remains strong enough to withstand the storms life will bring along, and so filled with God's joy that you live happily and faithfully together all your lives.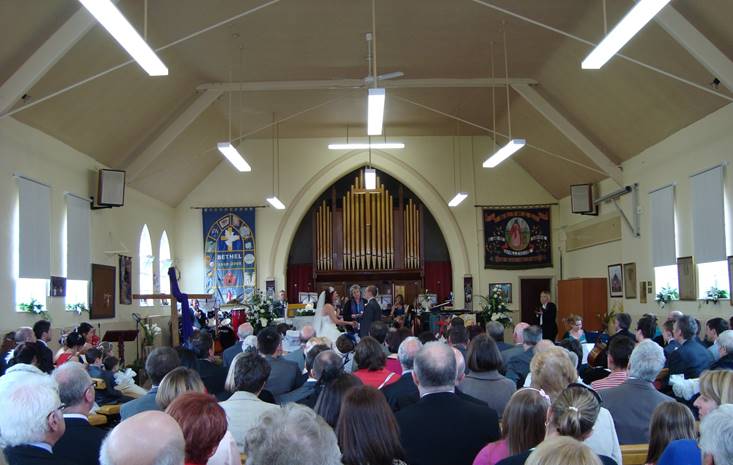 Frequently Asked Questions
Q1.  What does it cost to get married at Bethel?
 There is a flat fee of £250 to get married at Bethel.  This includes all of the following:
Initial wedding planning meeting
Follow-up meeting for music and service planning
Wedding rehearsal meeting
Wedding ceremony
Standard flower arrangements in church
Permission to video record ceremony
Permission for flash photography
Use of gardens for photographs
Copy of the Marriage Schedule
Organist's fees (if required)
Use of PA system and operator (if required)
Live Streaming on YouTube (if required)
Order of Service Sheets
Heating in Chapel
Q2.  How many guests can we invite?
We can comfortably seat 100 people, but we can get up to 150 people if every seat is taken!
Q3.  When shall I pay?
At the wedding rehearsal by the latest please.  If paying by cheque, please make payable to 'Bethel Chapel'
Q4.  How long does the service last?
Including signing of the schedule, usually no more than 45 minutes.
Q5.  What about the music and hymns?
These are discussed at the initial meeting and help is given with suggestions if needed.
Q6.  Who can be our witnesses?
Any 2 people over the age of 18 and resident in the UK
Q7.  What about the registrar?
You have to make an appointment at The Priory or The Thomas Robinson Building in Lye (0300 555 2345 or 01384 815373) to register your intent to marry.  Both of you will need to be present.  They charge £35.00 each for you to register.  The schedules will then be sent to Bethel in readiness for your wedding.
For more information on registering, please see http://www.dudley.gov.uk/resident/living/marriages/giving-notice/
No schedules = no marriage!!
Christenings
At Bethel we hold both full immersion Baptisms for those old enough to make up their own minds to follow Jesus, and Christenings for babies and children, to welcome them into the church, where we promise to look after them until they are old enough to make decisions for themselves.
Occasionally we are asked to do christenings for adults, which we are also able to offer here.
Here are a few answers to frequently asked questions about Christenings:
Christenings are usually held on a Sunday afternoon, at around 1.30pm.  If this doesn't suit you, please ask us about other arrangements.
Yours will be the only christening service held at the time, we do not do shared christening services unless specifically asked to do so with other people you know.
You are not restricted on the number or gender of Godparents, you can have as many or as few as you wish.
For Christenings at Bethel, Godparents do not need to have been Christened themselves.
There is no charge for Christenings, but you are welcome to make a donation to Bethel if you so wish.
You only need to arrive around 5 minutes before the time of the service.
Make sure you have your cameras at hand to mark this special day for your child(ren) - they may not remember the day, but you can take photos to show them what a special day it was for them.
Please get in touch with us if you wish to book or require any further information - ring the church office on 01384 892137 or email your Christening Enquiry.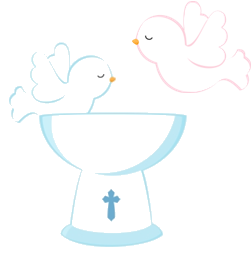 Believer's Baptismal Service
We have regular Baptism Services here at Bethel, here is a report from a particularly memorable one from a few years back
The first Sunday in January 2009 saw the morning service dedicated to the most moving believer's baptismal service, where 7 people - Jacqueline, Michael, Kim, Amy, Alice, Angela and David - went through the waters for full immersion, to stand as a witness for their faith in Jesus Christ.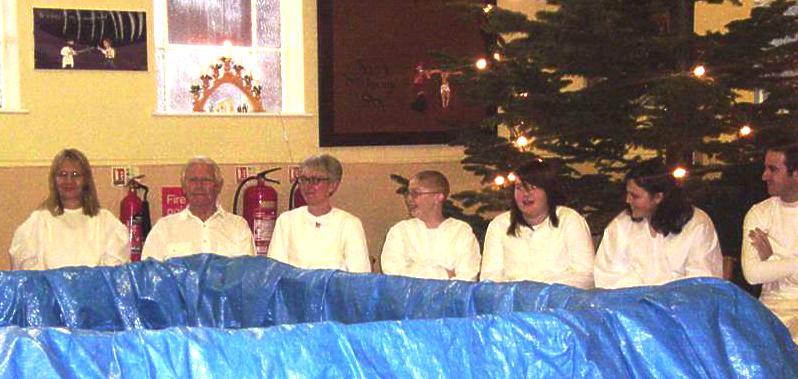 Two of the people baptised were Amy Nicholls, who was 19 at the time and living with terminal cancer, and Jacqueline Gough who also has her own battles with a brain tumour.  They both gave their testimonies - Amy's was read by her friend Emily Dunn, and Jacqueline bravely read her own.
Here are the two testimonies printed, as they were both so good, that no-one should miss out on their encouragement:
Here's Amy's testimony:
"I've heard it said that when God created each one of us our outcomes and destiny's were always predetermined. Our life was already planned out for us, like an unopened book just waiting to be read. I kinda like this way of looking at it and have always gone by the term "even if the destination is predetermined, it's the journey that counts, and what a fun journey I'm having so far.
I also believe that we are sent to earth with a set birth and death date. God knows what is going to happen at each and every turn of our life and we through him must complete whatever we were sent to earth to achieve, then once completed, he calls us home.
I also like this way of looking at life.
I also know now what my mission on this earth was -  mine was to face a big battle and show people that even in the face of such hardship and adversity, with a boat loud of courage, strength and a smile on your face you can get through anything, achieving many other goals, aspirations and having a damn good time along the way. Oh and not forgetting putting 100% of your faith and trust in the Lord, knowing He is there walking beside you every step of the way!
That's my mission, that's my goal and this baptism? It's just another page in the book of my life. I hope you enjoy sharing this page with me today.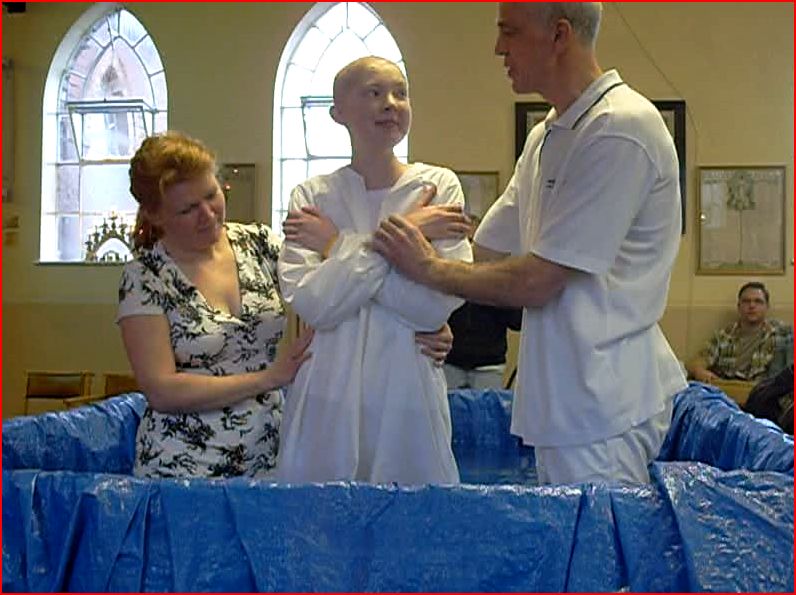 You see to me; life is not a journey to the grave with the intention of arriving safely in a pretty and well-preserved body, but rather to skid in broadside, totally worn out and proclaiming, 'WOW, WHAT A RIDE!!!'"
NB
Amy skateboarded into heaven on Monday 9th February 2009, a couple of weeks after her 20th birthday, and we held a most inspirational and uplifting service here at Bethel on Wednesday 18th February.  Amy had chosen the elements of the service herself and everything that was said or sung simply reinforced her faith to us that she had done all that God needed her to do, that he had taken her home and that we would all meet again.  Her recommendation that we all put 100% of our faith in the Lord really is one of the greatest gifts she left us all.
You can read about Amy's journey in her own words on her blog page – click here
And here's Jacqueline's:
Good morning Church.  For those here today who don't know me, I'm Jacqueline and as today is a very special day for us, I'd like to share my road to the tub in front, and this white dress!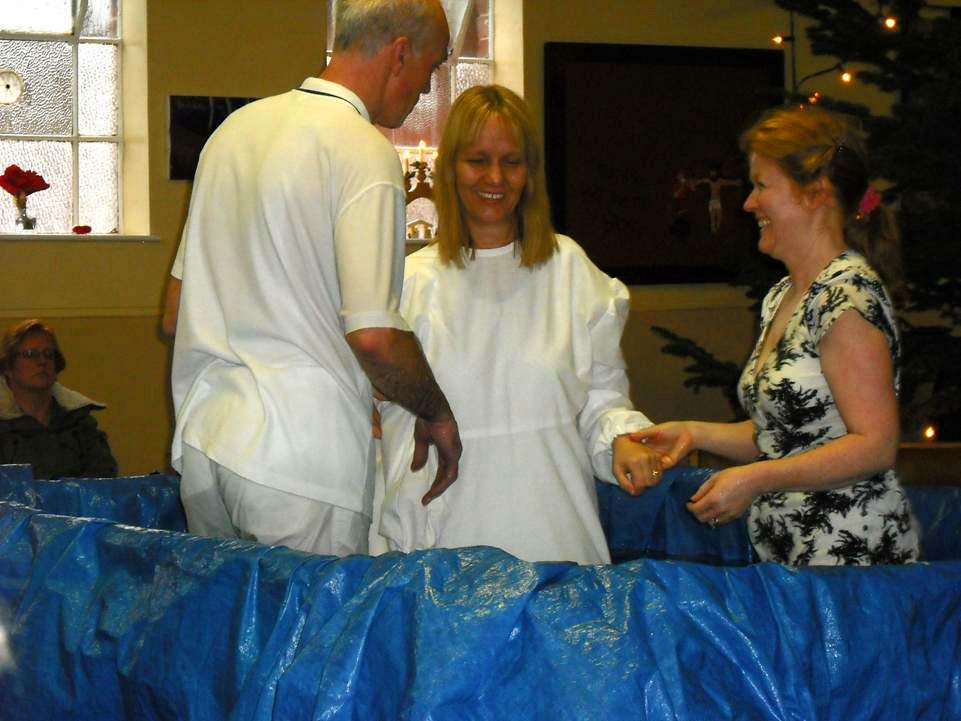 As a child I lived quite literally next door to a small Evangelical Chapel in Birmingham.  mum encouraged me to go to Sunday School and later a group for teenagers - "The Covenanters."  It was idyllic. Sunday School, Bible stickers, singing, summer outings and Prize Giving.  But then came boys, and they were much more interesting. Need I say more?
Then followed a big gap in my Church life until about 17 years ago when my friend Jo gently introduced me to Bethel.  First of all it was Summer Fair, Easter Breakfast, Christmas and special services. I'm glad she didn't drag me in, sit me down with a hymn book and leave me!
At first I used to think, "faith?  What is that and how do I get it?  Does it appear when you really need it?"  The idea of belief to believe was unclear.  To me, "believe" means you are not sure.  So how could I get a bit of what others had got?  I was a bit jealous.  Would faith and a real feeling of belief float down from heaven as a mist?  So, keep singing and wait, I decided.  Or I could try praying, but I always fell asleep!
So then began the bargain: "Lord, if I promise never to miss Church will you heal my friend?"  Or, "God, please send me a sign tomorrow and I will believe from then on in."  Oh dear.
All this time He was silent, but not totally it seems.  Other Christians pulled or pushed me along.  I learned that belief is a decision you make.  Repent and commit your future to Him.  HE will deal with the sins of the past and be there with you in the future.  Faith grows and deepens with time.  By the time I had married Alan, I had got it!!
Thanks to Church, family and friends, I am baptised today in very fortunate circumstances.  Please help us all celebrate.  Thank you for being Bethel.
God bless.
Jacqueline Gough