Little Lambs Pre-School Centre
'Explore, Experience, Enjoy'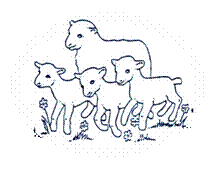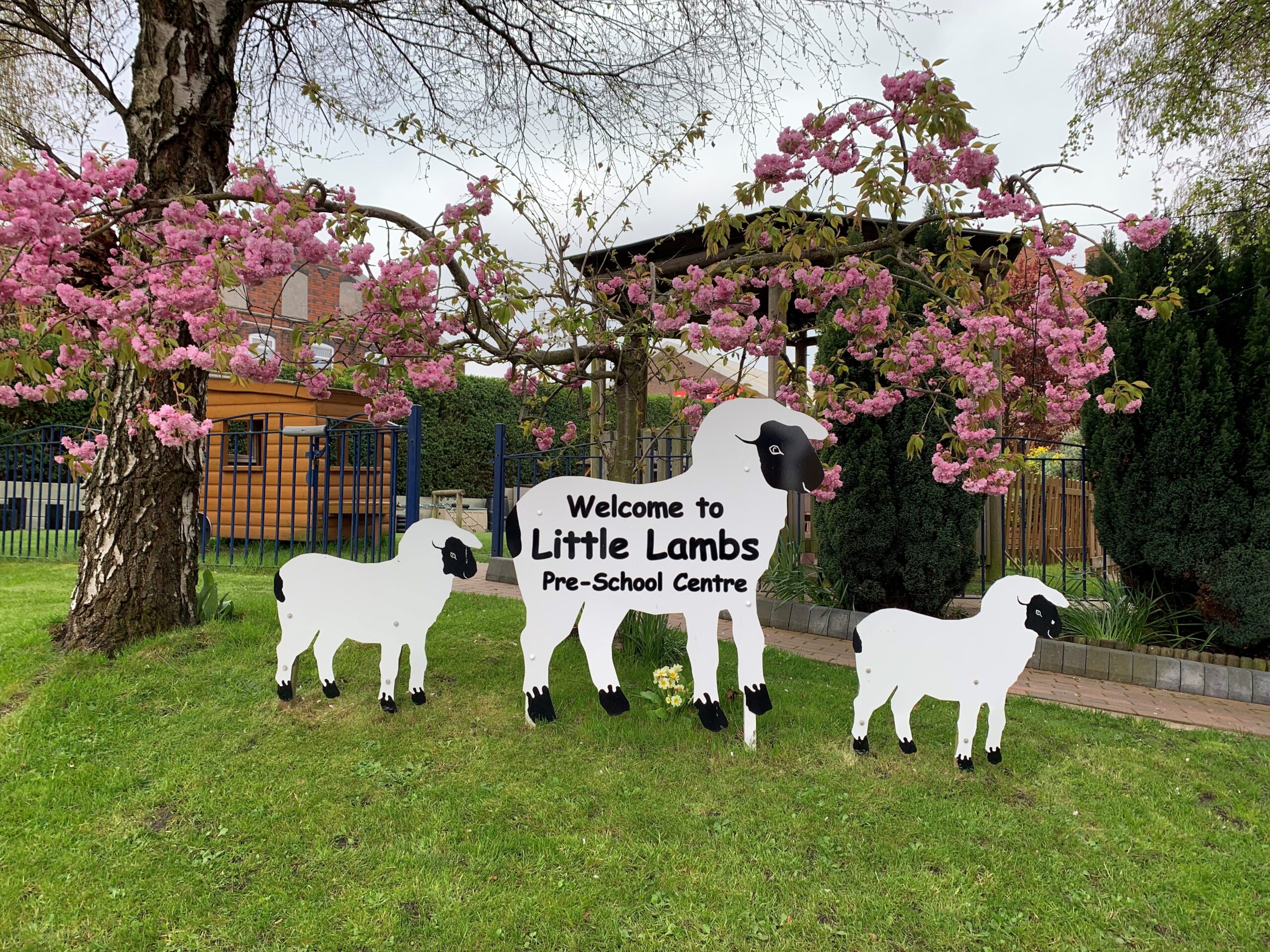 Little Lambs Pre-School Centre is a 55 place private Pre-School operating in a purpose built Early Years Centre in Bethel Chapel.  The centre includes 3 main rooms and a large outdoor play area, with lawns, paved areas, a soft surface play area and outdoor classroom.
The setting is on one level with its own private drive and access to the main entrance can be made via a ramp or steps.  The whole building has been designed for inclusion of all children and parents with any disability.
Children come from the local and wider community and transfer up to eighteen different local schools.
The setting operates 5 days a week, term times only.  Sessions are 8.30 until 11.30am for children the year before they start school and 12.30 until 3.30pm for younger children (excluding Friday afternoons).  Sessions for 2½ year olds remain at 2½ hours until the child is old enough to access Early Education Funding.  These sessions are 12.30-3.00pm Monday, Tuesday, Wednesday and Thursday.
We offer a limited number of 30-hour places for morning children.  Sessions are 8.30am–3.30pm Monday – Thursday and 8.30am–11.30am on Fridays
Little Lambs has an optional uniform which parents/carers can choose to dress their child in.  Items are available to order from staff at a cost of £6.50 for a Polo Shirt, £8.00 for a Sweatshirt, £10.00 for a Cardigan and £10 for a Fleece, all embroidered with the Little Lambs logo.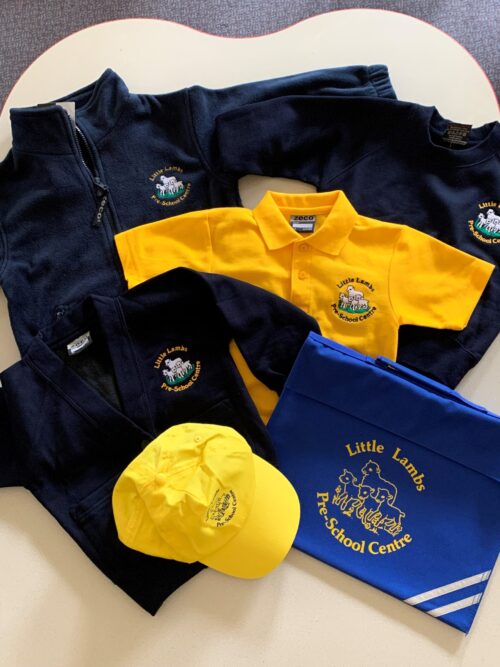 Our setting ethos is 'Explore, Experience, Enjoy'
We intend for all children to be offered a wealth of experiences to build on their own bank of experiences. We encourage children to explore with all senses and promote physical activity, understanding that this not only keeps them healthy, but also keeps them alert and interested.
It is our intention to enhance all children's knowledge to give them the skills for the future and to encourage them to have a lifelong love of learning, to enable them to be school ready; to be independent when accessing the environment/resources, able to attend to their own needs physically, to have a knowledge of the local environment and an interest in the world around them, to have a love of books, to be able to make secure relationships, to have the vocabulary to communicate their thoughts, needs and feelings, to have strong core muscles and a love of physical activity and to have an understanding of good practices to enable them to stay healthy. Our Curriculum Policy and Curricular Goals underpin this intent.
Thirteen full-time and part-time staff work with the children. Two staff members have qualified teacher status, nine staff members hold a level 3 qualification in Childcare, one apprentice holds a level 2 qualification, working towards level 3, one staff member is employed on a fixed term 6 month contract via the Kickstart scheme and one staff member is office based and holds a NVQ level 3 qualification in administration.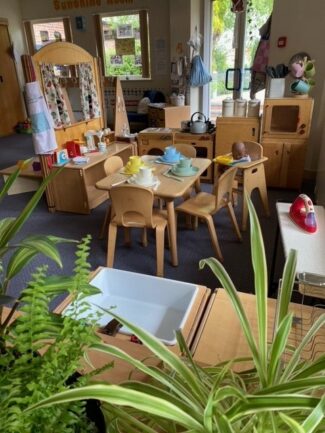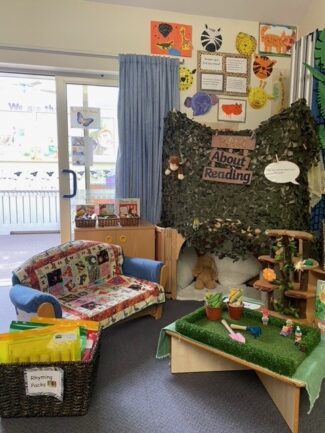 Little Lambs sets out an inclusive approach, designed to be responsive to the individual needs of children and parents.  We focus on delivering improved outcomes for all children and closing the achievement gap between disadvantaged children and others. Our setting aims to be inclusive to all children.  We are familiar with and work within the boundaries of the Disabled Children & the Equality Act 2010.
We welcome parents, children and staff with disabilities since our early years rooms are designed to accommodate such needs.  There are ramps both at the entrance to the building and to our outside play area and the rooms are all on one level.  There is a separate toilet facility for people with disabilities with wide doors for wheelchair access.  There is a quiet room within our setting for private discussion with parents, outside agencies or working on a 1 to 1 with children.
We have access to specially trained additional educational needs staff.  The SENCO and teacher support have a wealth of experience in this area, and there is ongoing training for all staff in the area of additional needs.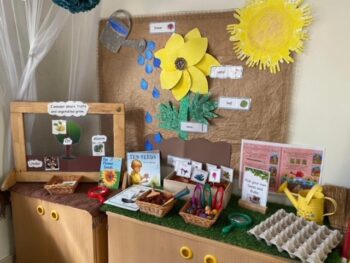 Throughout the year trips and outings are arranged for the children.  A trip to a local allotment to experience harvest and Spring, to observe fruit and vegetables growing and plant some of our own, a walk in the park to experience Autumn or observe the bluebells growing, a trip to our local library to share our love of books and a Summer trip to enjoy outdoor play at the Sycamore Centre to mention but a few.  Little Lambs also accesses outside expertise to offer "Music Time" sessions with a qualified music teacher on a weekly basis.
Little Lambs has a healthy eating policy and was the first setting in the Dudley Borough to achieve the Gold Healthy Setting Award. A varied array of healthy drinks and snacks are available daily.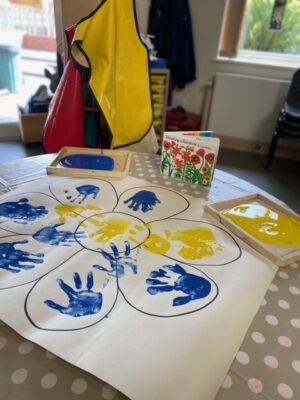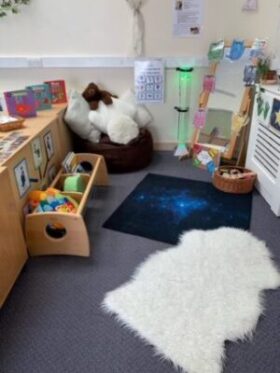 The Nursery staff have very good relationships with parents and carers and appreciate the help provided by them on varying occasions.  Parents are invited to a termly Parents' Evening, to information sessions, Parents as Partners sessions and to 'specials' e.g. Christmas performances, Mother's Day & Father's Day Services and pop-ins, Sports Day events and fund raising events.
Prospectuses are available CLICK HERE or upon request from the office (01384 892137) or via email.  If you wish to apply, you can print out the application form on the last page of the Prospectus and post it to us.  The full policy documents are available to view CLICK HERE.  Children applying to join Little Lambs will be placed on a waiting list and offered a place as soon as a relevant one becomes available.   Prior to starting at Little Lambs, staff members will make a visit to see the child at home, which is followed by a return visit to nursery.  Our waiting list is arranged in order of date of birth, taking into account all other relevant priorities.  In the event of demand for places exceeding room, priority would be given to
a)Relevant looked after children

b)Children with a brother or sister already in the Pre-School

c)Children of families who can demonstrate a close commitment to Bethel Chapel, Wollescote

d)Children of families who can demonstrate a close commitment to a recognised Christian Church

e)Children of families committed to the practice of the Christian religion

f)Children of families committed to the practice of other religions who would like their children educated at a Christian Pre-School
The welfare of the child is of paramount importance.  Little Lambs is committed to safeguarding and promoting the welfare of children and expects all staff, volunteers and parents to share this commitment.  Here at Little Lambs we take safeguarding very seriously.  We have a duty, known as the Prevent Duty, to have "due regard to the need to prevent people from being drawn into terrorism" (Counter-Terrorism and Security Act 2015).  Through positive role models and play-based and focussed activities, we promote the British Values of democracy; rule of law; individual liberty; mutual respect and tolerance.
We believe children are a gift from God, and we count it a privilege to look after the children whose parents choose Little Lambs for their child's Pre-School education.
If you would like to know more about Little Lambs, please feel free to contact us.
Guidance to your child's learning and development in the Early Years Foundation Stage 4Children_ParentsGuide_2015_WEB
View Resource